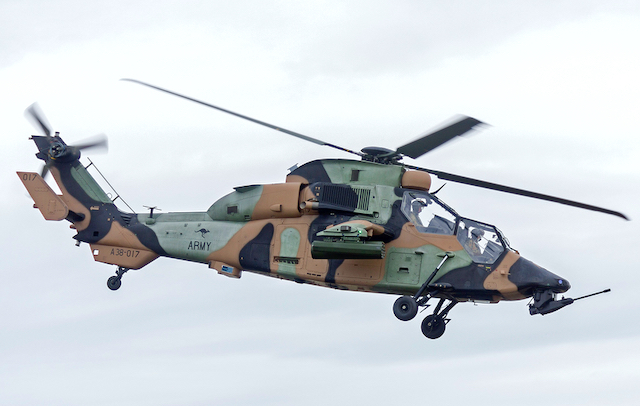 Eurocopter Tiger ARH  (Wikimedia)
In attendance today were three former Army aviators – our guest speaker Kevin Humphreys, (ex Lt Col  and rotary wing pilot), Rick Davies (ex Lt Col and fixed wing pilot) and President-Elect John (ex-Maj and fixed wing pilot), so it was only appropriate that John (aforesaid) chose to speak about Australian Army Aviation.
It was also as well to remind us that while Australia has been celebrating the 100 year anniversary of the RAAF, Australian Army aviation goes back further than 100 years, to the formation of the AFC (Australian Flying Corps) back in 1912. The first AFC base was at Point Cook, Victoria, and if you are ever game to move across the border, the RAAF Museum there is well worth a visit.
The AFC served in many theatres of the First World War, notably Palestine and the Western Front, after which it remained part of the Australian Army until it was disbanded in 1919, temporarily replaced by the Australian Air Corps, until the formation of the independent RAAF on 31 March 1921.
Technically there was no Army aviation until December 1960 when the No.16 Army Light Aircraft Squadron was formed as a joint Australian Army and RAAF unit, flying Bell 47 helicopters (the type you saw in the TV series "Mash") and Cessna 180 light aeroplanes, eventually moving to RAAF Base Amberley.
In 1965 161 Reconnaissance Flight (161 Recce Flight) was also raised at Amberley, and soon after it deployed into Vietnam as part of 1 RAR Group, (as President-Elect John well knows), remaining there until March 1972.

On 1st July 1968 Australian Army Aviation was formed as a corps of the Australian Army. In 2009 they transferred the last of their fixed-wing aeroplanes to the RAAF, and since then Australian Army Aviation flies only rotary-wing.

John talked about the continued growth of Army Aviation. There are now three Regiments based at Darwin, Townsville and Sydney. He told us about a number of the aircraft currently flown – the Boeing CH-47F Chinook, the NHIndustries MRH 90 Taipan, the Sikorsky S-70A-9 Black Hawk and the Eurocopter Tiger ARH. The Tigers will be replaced by Boeing AH-64 Apache attack helicopters, which will be a real step-up in capability.