Competition open for one more week!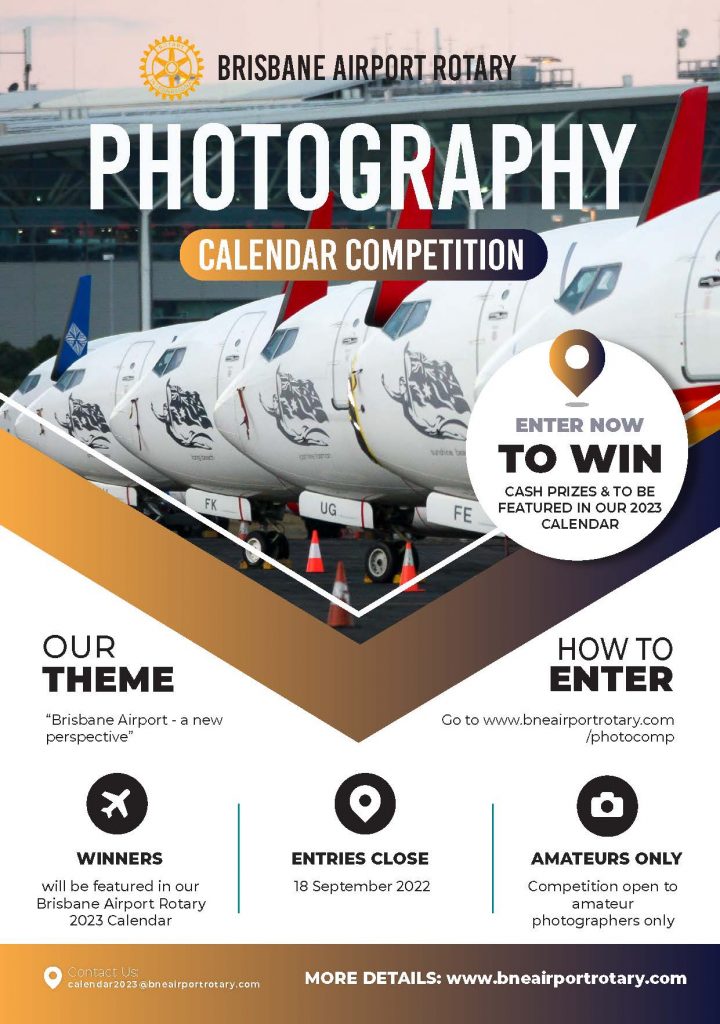 Calling all budding photographers, aviation enthusiasts, Brisbane Airport locals and visitors!
We are looking for images of aircraft, infrastructure, people and the environment around the Brisbane Airport precinct. The theme is "a new perspective in aviation"
Winning photos will be published in our Rotary Club of Brisbane Airport 2023 Calendar with cash prizes for 1st, 2nd and 3rd place.
This competition is open to all with entries closing 18 September 2022 (please note competition closing date extended to 25 September 2022)
You may submit an unlimited number of entries.
Entries can be submitted using the form below or by emailing calendar2023@bneairportrotary.com
All entries must be in Landscape Format (horizontal, not vertical) in JPEG format and a minimum 3MB file size to ensure a high image quality
There must be no borders, logos, copyright marks, identifying marks or other visible references or marks on the image.
All costs incurred during this submission shall be borne by the participant.
TERMS AND CONDITIONS
By entering this competition, I acknowledge:
I am the lawful author/copyright owner/authorized party of this image/works submitted
That I give the Rotary Club of Brisbane Airport the absolute rights and permission to the copyrights to use or reuse, to publish or republish and to produce the image/works that I have submitted.
That I have sought relevant permission, and authority for the models/persons/individuals involved and venue and image of props used in my submitted works.
The Rotary Club of Brisbane Airport reserves all rights to reproduce, publicise or to exhibit the submissions in any form of media or medium, whether locally or internationally, without any prior notification or payment made to participants. Credit and acknowledgement of all photos will be given.
That I have the appropriate authorisations to take photographs in any security controlled areas at Brisbane Airport.
That I indemnify the Rotary Club of Brisbane Airport of all liability claims or legal claims as a result of my submission.
Entries submitted must not be published by any media or medium prior to this submission.
All entries must be of participants' original works. Usage of third party/party's creative works are prohibited, in which case the entry will be automatically disqualified.
Entries will be judged on the following criteria: subject matter, composition, creativity and technique.
 All entries must be submitted by 18 September 2022 (please note competition closing date extended to 25 September 2022)
The Judges' decision is final and any form of correspondences shall not be entertained.
Winners will be notified via email following the judging.
That I have read, and I shall meet all the competition rules stated for this contest.
Days until the Competition Closes!